Give Yourself the Gift of Sound Therapy!!
Therapeutic Tongue Drums create more than just music.
Its unique tones tap into the same vibrations as other spiritual instruments used throughout the ages, such as gongs and singing bowls. 
It has been used worldwide for yoga, meditation, and spiritual healing by energy healers, spiritual practitioners, and teachers of all kinds as a tool for sound therapy!
This Percussion instrument creates sounds that unlock a deep peace within the listener, which in turn, creates a state of harmony and joy.
  Each Tongue Drum is handmade by Hong Kong-based craftsmen and contains the essence of Chinese Philosophy and music while simultaneously including modern technology, sound theory, and innovative design. 
Why YOU Need A Tongue Drum
The sounds Tongue Drums make have many wonderful benefits for stress management and overall health. The sound waves calm your physiology, without you even making a conscious effort, thus alleviating stress from your mind. Over time your body will slowly (but surely) build resilience toward stress over time. 
It's perfect for: 
healing practices, meditation, creative thinking, and spiritual exploration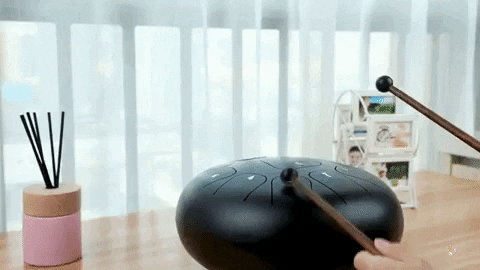 You singlehandedly have the power to create music that summons feelings of peace & harmony. Tongue Drums are both melodic, EASY to play, and make the perfect gift. 
It doesn't demand years of practice or extensive training - in fact, anyone at any age is able to summon up its soothing sounds within the first day of owning one!
For many people, music meditation can feel simpler and more instantly relaxing than other forms of meditation practices. The combination of music with meditation can deepen the positive effects of both, bringing you greater stress relief.
With 30 Day risk-free guarantee, just try one out, you will not be disappointed!
Compact, Beautifully Crafted & Perfectly Tuned. 
Each Tongue Drum is perfectly tuned to produce clear and delightful sounds. They are designed so that a total beginner - even those who believe they don't have any musical ability or sense of rhythm - can quickly produce beautiful sounds. Anyone can pick it up and play!
With a total of 11 tones in the Key of C, each drum has an adequate range of sound that can play both simple and the most complex compositions.
Each Tongue Drum is made of durable, high-quality alloy steel and supported with sound stabilizers to produce clean, vibrant sounds everyone adores. Beautifully finished and very sturdy, each drum comes with its own carrying case.
Each drum is individually inspected to ensure that all our customers receive the highest quality possible, and made so that it can remain an object of beauty for years. 
Features:
Material: Fine Titanium Alloy Steel
Features: C Key, 11 Tone
Size (Approx.):
17.5cm x 7.5cm x 17.5cm / 
6.89" x 2.95" x 6.89"

Package Content:
1 x Therapeutic Tongue Drum
2 x Drum Sticks
2 x Drum Stick Holders
1 x Tutorial Book
1 x Finger Cover
1 x Drum Bag 
Shipping & Delivery  
We currently offer FREE worldwide shipping.
Due to COVID-19 and Government Restrictions, our typical delivery times are: 
5 - 7 Business Days.
Packages typically arrive sooner. Once shipped you will receive an email.
Please allow 1-3 Business Days for order processing.
Due to the pandemic, there might be additional delays that are beyond our control. Thanks for understanding!
30 Day Risk-Free Guarantee! 
We have an iron-clad risk-free guarantee. If you aren't satisfied with our product for any reason, you have up to 30 days after receiving your product to contact us and ask for a full refund.
Anchor Yourself In The Moment And Find Peace Within Yourself!!